St. Luke's Anglican Church
Strengthen Our Faith, Deepen Our Hope, Spread the Word of God
The Tuna Transformation
The classic penitential practices of Lent – fasting, almsgiving and prayer – live in the individual soul but also in the parish community. This Lent at St. Luke's in Dartmouth, the children encouraged us in a community act of transformation. We transformed our food indulgences into cans of tuna for the Dartmouth East Christian Food Bank.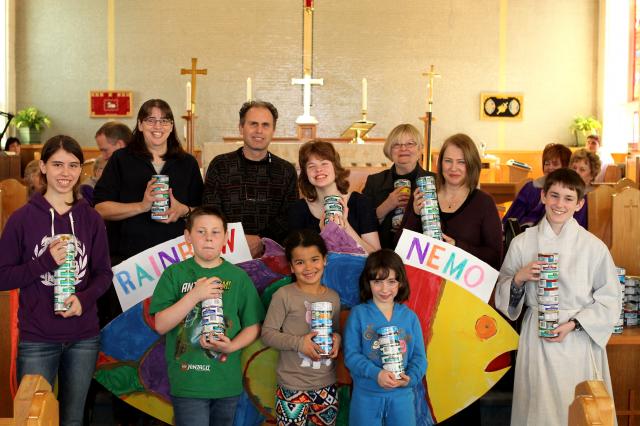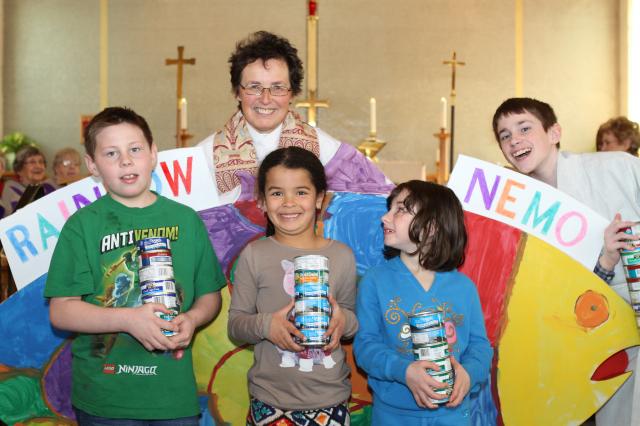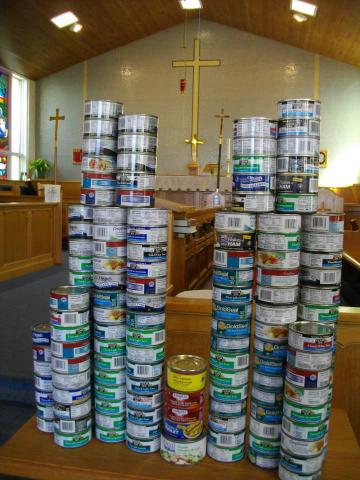 When this photograph was taken (Feast of the Annunciation, transferred), the Tuna Total was 753 cans. We continue to transform indulgences into tuna as we are each called. Some parishioners made this a specific part of their personal Lenten discipline. Even during a weekday you would hear that rumble and thunk and find a grinning 60 year old feeding a transformed treat to Rainbow Nemo.
Generosity is a virtue of so many individual Anglicans. The encouragement of the Sunday School and the bright presence of Rainbow Nemo helped us as a community to know the experience of cheerful giving in Lent.
UPDATE:  Our final tally for donations to the food bank came to 1052!
Parishioner Gerry Forrest made a giant tuna which swam beneath the pulpit all through Lent. Guided by superintendent Darlene Killen and the teachers, the teens designed and the children painted its glorious scales. When you feed a can into Rainbow Nemo's mouth, the can rumbles along a channel and falls into the "stomach" with a satisfying thunk.
In a pre-Lent children's talk, we examined a shopping bag full of lovely things that could be foregone for Lent and converted to tuna. We learned that one can of tuna is two protein servings. Out of the shopping bag popped all kinds of tuna conversion candidates – potato chips, root beer, mini-eggs, bags of cookies – and Tim's coffee and a bottle of wine. We figured out how many cans of tuna each would transform into (some of us have refined taste in wine!). Parishioners at the 8am service had responded magnificently to a request to bring in an early offering of tuna. The children rolled dozens of cans into Nemo's mouth, to the sounds of rumbling and thunking and shrieks, and delighted laughter from the congregation.